Introduction about the programme
---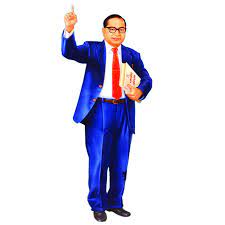 Dr. Bhimrao Ramji Ambedkar (1891-1956), fondly known as Babasaheb, is one of the most illustrious sons of India and a great National Leader. He is considered as the champion for the Dalit cause, an erudite scholar, extraordinary statesman and a visionary who contributed greatly to the building of the modern Nation. Dr. Ambedkar left an indelible impression in the history of India as a messiah who unfettered the oppressed classes that were path-breaking in its essence and strived towards the monumental endeavors of freedom. He was the Chief Architect of the
Constitution of India, wherein Babasaheb left emancipatory provisions for the justice and empowerment of the oppressed classes. He is the symbol of the struggle for justice and empowerment of the weaker and downtrodden population in India and laid the foundation stones of building a just society. Babasaheb's groundbreaking ideas led to the formation of the Reserve Bank of India during British rule. As a Labour leader, he promoted the revolutionary idea of "fair condition of life of labour" as opposed to "fair condition of work" which provided the outline of the future labour laws in India. Babasaheb was also a champion of the cause of gender parity as he initiated reforms for lessening of working hours to 48 hours per week, removed the ban of engaging the women in various forms of employment and coded the principle of "equal pay for equal work" irrespective of gender. His idea of the Hindu Code Bill is of emancipatory nature. Babasaheb also left a lasting impression as a social reformer through his role in the movements like Mahad Satyagraha, the Anti-Khoti movement and the Dalit Buddhist movement.
In pursuance of the decisions of the Governing Body, the scheme is aimed to establish Dr. Ambedkar Centre for Excellence in at least 30 Central Universities, one from every State/UT of India. Through the Scheme, the Centre shall empower Scheduled Caste students in competitive exams by providing the best and free coaching facilities.
The Central University of Andhra Pradesh has been sanctioned with Dr Ambedkar Centre of Excellence by the Ministry of Social Justice and Empowerment, Gov. of India. The main objective of the centre is to provide coaching exclusively to the students from scheduled castes to appear for civil services examinations. Further details will be added shortly.
Notifications
---
published on 30-september-2022

---

published on 16-september-2022

---

published on 09-september-2022

---

published on 02-september-2022

---
Dr.B.R Ambedkar Center of Excellence Advisory Board :
Chairman : Prof.S.A. Kori, Vice- Chancellor
Central University of Andhra Pradesh

Nodal officer : Prof. G. Ram Reddy, Dean-in-charge
Central University of Andhra Pradesh

Programme Coordinator : Prof. M.D. Bavaiah
Contact Details
Prof. M. D. Bavaiah,


Programme Coordinator,
Dr. Ambedkar Centre of Excellence,
Central University of Andhra Pradesh,
JNTU Incubation Centre,
Chinmaya Nagar,
Ananthapuramu - 515002
Andhra Pradesh, India.
Email ID: dacecoordinator.cuap@gmail.com
Mobile No: 9963917249